Regular price
Sale price
$28.00 USD
Unit price
per
Sale
Sold out
The Juicy Details
Made by friends to be shared with friends. If you've been disappointed by boring NA reds that remind you of grape juice, this is your upgrade. Award winning winemakers, premium grapes, and all natural ingredients combine to craft a delicious non-alcoholic wine alternative. Skip the alcohol, not the experience. A complex, smoky, and layered NA red unlike any other. Dark fruit meets smooth vanilla, rich oak, smoke & spice. A completely unique sip. There are on average 133 calories in a typical 5 oz glass of wine. In this one? Just 30.
Non-alcoholic Red Blend delivers complexity, warmth, and a cheeky little bite unlike any NA red out there. And it's not just better. It's a completely unique sip. Not a Cab. Not a varietal. An intentionally non-alcoholic red wine experience. Your first sip starts with black currant, smoke and smooth vanilla notes, followed by earthiness from Surely's organic fermented teas, and finishes with a touch of spice. You'll enjoy a distinct beginning, middle, and end - like a fine wine. Tantalizing in her allure, Red Blend will make you do a double take. As she acclimates to the heat of your hand and the swirl of your glass, she shifts and transforms to keep you guessing and always coming back for more. 
Why We Love It
One of the first non-alcoholic red wines we've tried that tastes like a true red - no watered down, grape juice flavors here. Has a wonderful smokey aroma. The bottle and label are also gorgeous.
Share
More Details

Composition
Grapes: Surely chose a blend of premium, locally-sourced Cabernet Sauvignon & Petite Sirah. Cabernet Sauvignon was chosen for its fresh dark fruit character and Petite Sirah for its bold tannins and spicy finish.

Oak character: Surely added a blend of French and American Oak to smooth out the tannins and deliver a velvety vanilla flavor.

Earthiness & smoke: Feeling that they needed more body, Surely incorporated a tea blend to round out the mouthfeel. Puerh Tea, a fermented tea, was specifically used to add a layer of "earthiness" and Lapsang Souchong was chosen to compliment the spice of the Petite Sirah as well as bring a lightly smokey note to the wine.

Balance: The addition of premium cocoa mostly interplays with the wine and the oak to provide balance.

Wine Characteristics

Region: California

Color: Garnet

Aroma: Dark fruit, fresh herbs and earthy notes

Body: Medium

Tasting notes: Savory and dark fruit with velvety tannins. Black currant, smooth vanilla, fresh herbs and earthy notes of forest floor. Finishes with a touch of smoke and a hint of spice.

Sweetness: Dry

Acidity: Balanced

Tannin: Medium - Velvety

Alcohol: 0.5%

Ideal drinking temperature: Enjoy lightly chilled. Below room temperature is ideal.

Pairings
The smoky, meaty character lends itself perfectly to the grill.
Ingredients

Ingredients: De-alcoholized Red Wine Blend (Cabernet Sauvignon, Petite Sirah), Water, White Grape Concentrate, Cherry Concentrate, Oak Extract Blend (French Oak Extract, American Oak Extract), Natural Flavors and Extracts, Bourbon Vanilla Extract, Organic Tea Blend (Organic Puerh Tea, Organic Lapsang Souchong Tea, Organic Rooibos Tea), Premium Cocoa Extract, L-Theanine (from Green Tea), Organic Ginger Root Powder, Organic Ground Rosemary, Sulfites (Preservative)

Serving size: 5 oz

Servings per bottle: 5

Macros per serving:

5g of sugar
7g of carbs
30 calories

contains less than .5% ABV
Returns

Buyer's remorse? Don't know her! We want you to be completely satisfied with your purchase. If you're not satisfied for any reason, please contact us within 30 days and we'll do our best to make it right. Read more about our refund policy here.
View full details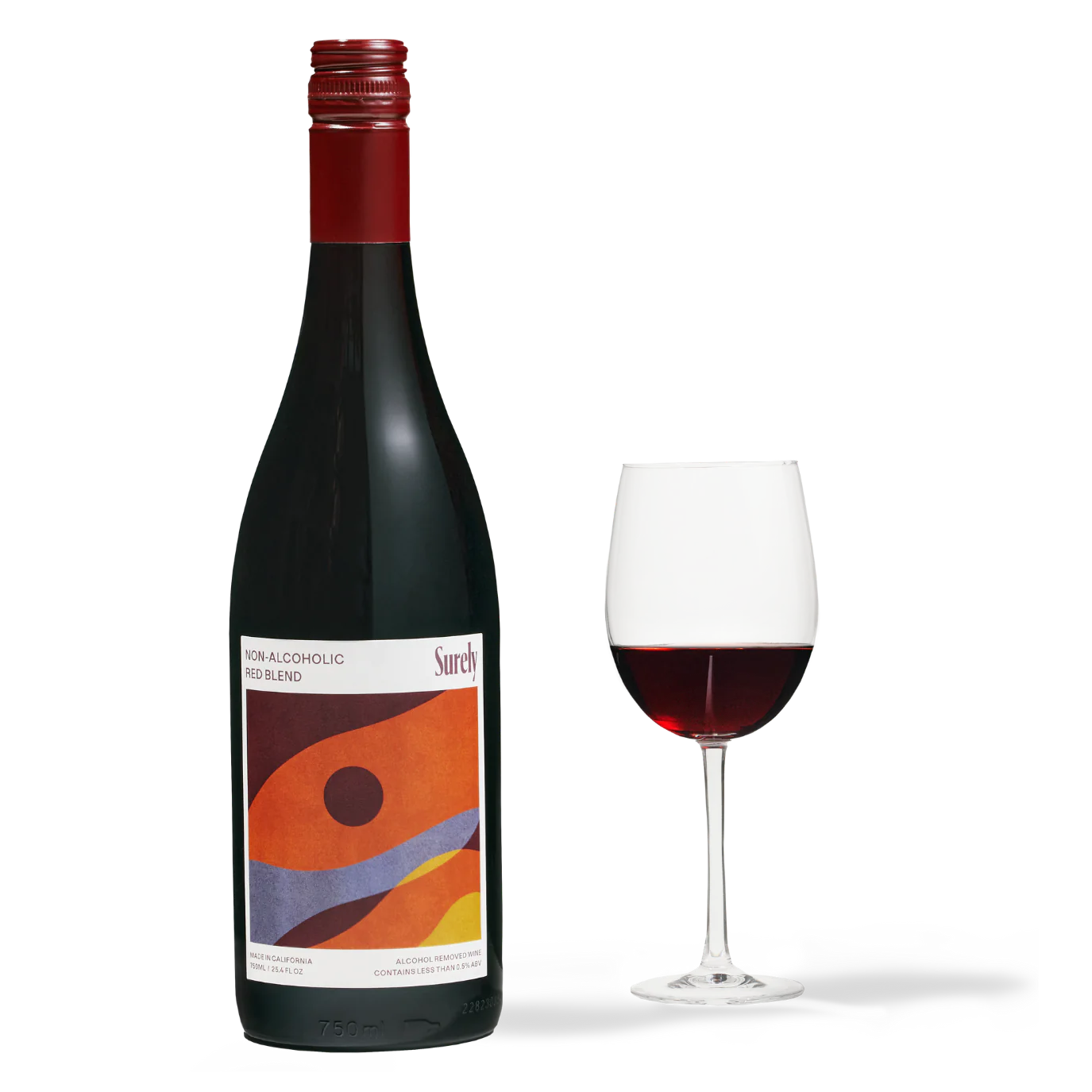 Thoughtfully chosen goods for a better you
Our selection of products are carefully chosen for you based on taste, ingredients, environmental sustainability, and value. Evergreen's goal is to help you drink less alcohol - whatever the reason.